National
Top Stories
REVEALED:How the Catholic church was used to clean stolen public funds to beat CBK deadline on old Ksh 1000 bank notes:Atwoli
By Charles Ouma
Fiery trade COTU boss Francis Atwoli has revealed how the Catholic Church allegedly conspired with corrupt politicians and unscrupulous businessman to clean up millions of shillings obtained from corrupt dealings in a complex scheme.
Atwoli who was addressing the public at a funds drive in Bukwala sensationally claimed that Catholic priests did the dirty job of exchanging millions of shillings obtained from corruption on behalf of corrupt politicians and unscrupulous businessmen.
The COTU boss alleged that corrupt individuals who had stashed millions of shillings in their homes flocked catholic churches with donations in a bid to beat the CBK deadline of 30 September when the old generation 1000 shillings note ceased to be a legal tender.
 "Wakatoliki wamefanya kitu SDA hawawezi fanya. Wanakubali kuchukuwa pesa za rushwa, it's the only church (that did this) mpaka wakati mabishop walipogundua very late ya kwamba mapadri wakikatoliki ambalo ni kanisa langu wameingilia kuchukuwa pesa za ufisadi. (The Catholic Church which happens to be my church has done what SDA would not do. It is the only church that agreed to take money obtained from corrupt dealings until the Bishops later realized what was happening)" Atwoli stated.
He stated that the Catholic priests would receive millions in donations from questionable individuals and deposit it in banks before withdrawing a section of the initial donation in new currency notes and handing it back to the individuals.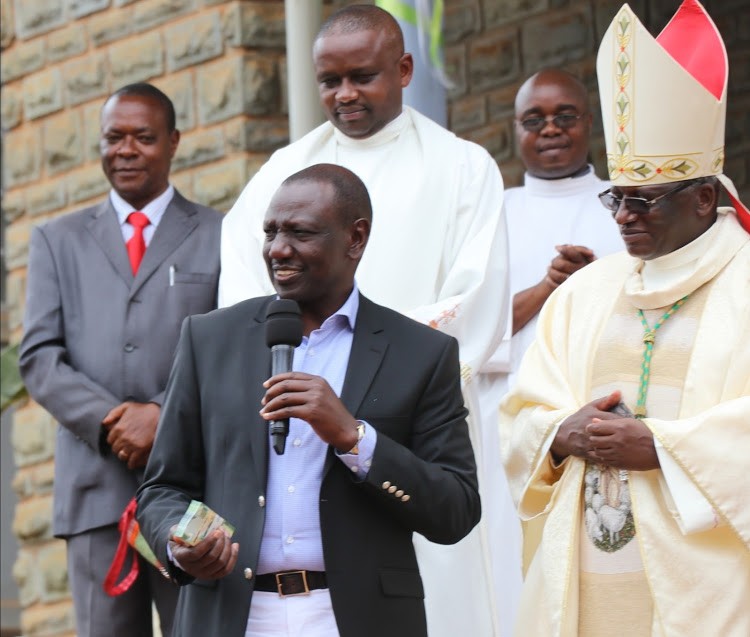 "Na walisafisha sana pesa za wizi. Zilikuwa zinapelekwa, wanaambiwa wameletewa millioni tano, hizo pesa wanapeleka benki, wanatoa millioni nne wanamrudishia yule alileta na wanabaki na millioni moja (They (Catholic priests) cleaned up so much stolen funds. They would be given Ksh. 5 million which they would deposit in banks. Afterwards, they would withdraw 4 million and hand it back to the corrupt individuals and remain with 1 million shillings)" Atwoli affirmed.
He lauded the Seventh Day Adventist (SDA) Church for refusing to join the criminal enterprise in its exploits in cleaning huge sums of money whose sources are questionable.
He urged the clergy to be content with genuine donations instead of joining the corrupt in their exploits at a time when the country's economy is bleeding from corruption.
"We might not give you a lot of money but this is genuine unlike those who bring millions of stolen funds and are cheered every other weekend." Atwoli stated.
Catholic Church cracks the whip
The millions splashed in churches across the country, mainly by a team of politicians allied to DP Ruto attracted the attention of the Catholic Church in Kenya which moved in with drastic actions announced last weekend.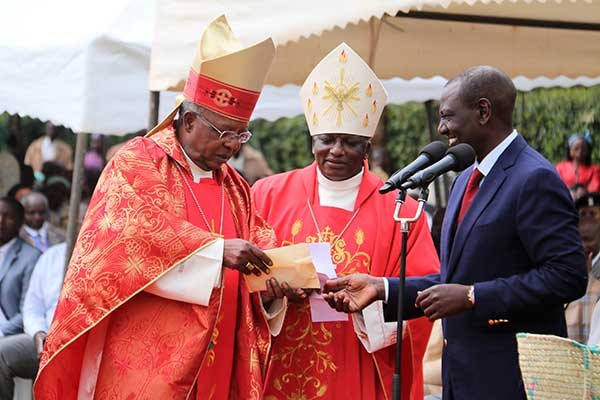 In an unprecedented move, the Church has banned all cash donations exceeding Ksh. 50000 in funds drives across the country.
In the move aimed at grounding corrupt individuals cleansing their money in church, the Kenya Conference of Catholic Bishops (KCCB) has directed that it would only accept electronic transfer of donation that will leave a clear trail of donors for accountability sake.
"Henceforth, fundraisers in the church will be done by mobile money transfer or by cheque. This will avoid handling of huge amounts of cash and give a clear trail of the donors," KCCB Chairman Bishop Philip Anyolo stated.
(Visited 442 times, 1 visits today)