Kenya Defence Forces (KDF) soldiers are set to return to the country after their 8-year stay in Somalia.
Speaking to Kenyans.co.ke, Government Spokesperson Colonel Cyrus Oguna informed that KDF soldiers part of the Amisom peacekeeping mission are expected to exit the country in a drawdown inline with the AU timelines on stability.
"Amisom cannot be in Somalia forever. So the drawdown means that we will gradually decrease the numbers because now Somalia is much better than when we went there," Colonel Oguna stated.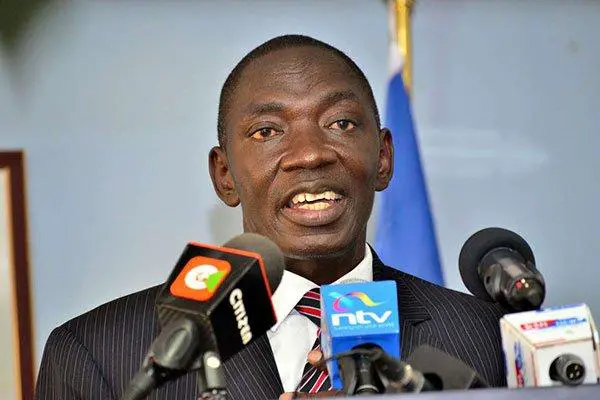 Government Spokesperson Cyrus Oguna addresses a press conference at his office in Nairobi on January 4, 2020
Daily Nation
"There is a lot more stability, business is picking up, realistically what may be left now is the Somalis to be able to put together strong structures that can aid in administration and provision of services," he added.
KDF will kickstart negotiations to leave Somalia earlier, in a process expected to be spearheaded by Minister for Defence Monica Juma, as Amisom prepares to wind up its peacekeeping and enforcement operations in Somalia in 2021.
This will bring to an end KDF's eight years stay at the northeast neighbours. The presence of the soldiers at the country aided in scaling down terrorist activities in Somalia, reviving the country's economic sector that had been immensely affected, while it may have inadvertently opened up Kenya to terror attacks.
The soldiers entered Somalia on the night of October 16, 2011, with a mission to destroy and foil operations by Islamic extremist group al-Shabaab, crush its leadership and cut prospects of attacks locally.
With Kenya sharing a 684km border with Somalia, this has left it permeable to Improvised Explosive Device (IED) attacks, several terror attacks along the North Eastern region and parts of the capital, Nairobi.
Successful military missions in Somalia by the KDF, and Amisom as a whole have not fully managed to shield Kenya from al-Shabaab related attacks.
The drawdown coincides with a time where the Federal Government of Somalia forces and other regional troops, are threatening the progress achieved by the peacekeeping mission in the country.
KDF has deployed a Battle Group to facilitate the drawdown of soldiers from the country under the Somali Transition Plan which will orchestrate the transfer of security responsibilities back to Somalia's security institutions.
The rotation of KDF troops between Amisom 8 and Amisom 9  Battle Groups under Brigadier Dickson Rono will be force's only major operations in the horn of Africa nation for the year 2020.
The Concept of Operations (CONOPs) 2018-2021 provided a timeline for the Somali Transition Plan, marking the final phase of Amisom's operations and eventual exit from the country.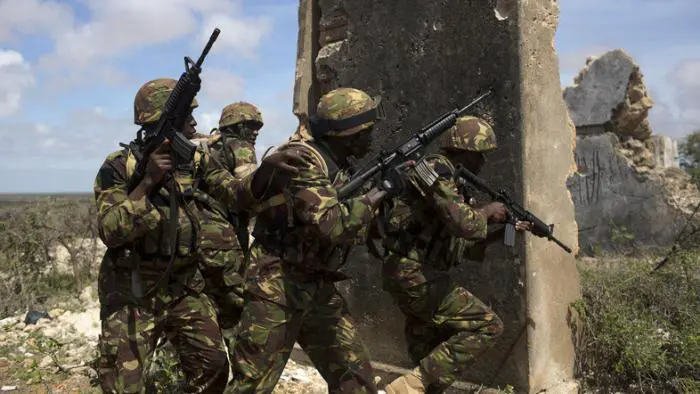 Photo of Kenya Defence Forces (KDF) soldiers in Somalia.
Telegraph
(Visited 825 times, 1 visits today)
Comments
0 comments