Trending News
Kenyan Woman PREDICTS Uhuru Kenyatta Will Die Before 2022
An elderly woman gets everyone's attention by predicting Uhuru Kenyatta will die before 2022.
In Kenya, everybody is allowed freedom of speech and expression and this time around it seems like one elderly woman took the liberty a little too far out of the comfort zone.
One elderly woman took to the street carrying a written banner reading 'Enough is enough. Uhuru to die before 2022."
It's not yet confirmed why she decided to carry the big banner with so strong powerful words that most people can't take back if the prediction actually comes to pass.
The photos which have since been shared on social media enough time doesn't seem to show where the elderly, bald woman was from.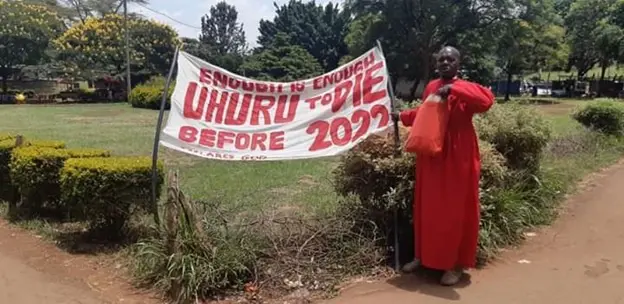 -Sonko News