Somalia Troops Invade Kenya – Mandera Governor [VIDEO]
Jubaland troops have reportedly infiltrated the Kenyan border in Mandera barely a day after President Uhuru Kenyatta issued a cease and desist warning to the Federal Government of Somalia (FGS).
In a statement shared on social media with an accompanying video, Mandera Governor Ali Roba claimed that the troops were moving freely inside the North-Eastern town.
The governor added that the fighting between Jubaland forces and FGS had worsened forcing some residents to flee their homes.
"Jubaland security forces moving right inside Mandera Town on Bulla Jamhuria Road, near the central chief camp, by the Huduma Center.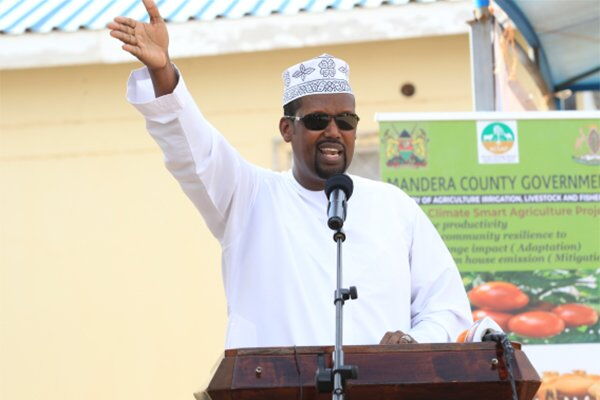 Mandera Governor Ali Roba speaking on February 14, 2020.
DAILY NATION
"This is a major threat to the security of Kenyans in Mandera. Our government must move with speed to mitigate this situation or risk more loss of lives," he shared.
In the video, two pick-up vehicles, two jungle green pick-ups are seen carrying uniformed men with two men manning the mounted rifles.
The fighting started Monday, March 2, after heavy gunfire rocked parts of Mandera County.
Heavy gunfire was heard in Bulla Hawa, a town on the border of Somalia and Kenya with an area known as Buruburu a focal point for the violence.
In light of the events, Uhuru fired back at Somalian Government while chairing a special session of the National Security Council (NSC), following Somalia's attack on Kenya's territorial integrity and sovereignty.
The Federal Government of Somalia in pursuit of short term political expediency is out to create artificial fissures in the relations between the Republic of Kenya and the Federal Government of Somalia.
"We, therefore, urge the Federal Government of Somalia, to cease and desist from the unwarranted provocations and focus on managing its internal affairs for the welfare of her people; defeating terrorism; and advancing the cause of peace, security, and stability in the region," stated Uhuru.
On Thursday, March 5, Garowe Online, an independent news outlet based in Somalia, reported that Somalia President Abdullahi Farmajo called President Uhuru Kenyatta on Wednesday night, March 4, after Kenya issued the warning to their neighbouring country.
The two discussed measures to be undertaken in resolving the stalemate and agreed to appoint respective committees to handle the matter diplomatically.
-Kenyans.co.ke
(Visited 1,260 times, 1 visits today)
Comments
0 comments