REVEALED: Why DP Ruto is so Blinded that he Can't see how Uhuru, Raila are Preparing him for State House
Just about three years to the next General Elections, Kenya is already in campaign mode.
So vicious are the campaigns for the 2022 elections, especially for the Presidency, that there is little going on in terms of development.
Anyone visiting Kenya for the first time would be mistaken to think we are going into elections just a few days from now as the whole government from the president to sub-chiefs, are in full campaign.
The lone proponent of these campaigns is none other than the second most powerful person on the land, Deputy President William Ruto.
How powerful is Ruto? One might ask.
Ruto, is the sole deputy to president Uhuru Kenyatta for two terms and they are bound at the hip with the millions of votes they got from across all counties in Kenya.
He is powerful by virtue of being the deputy president. He commands a lot of respect and influence across the country. He is the president in waiting.
However, Ruto is also a man whose oud mouth has put himself between a rock and a hard place.
He is currently the defacto opposition leader, a position that is, however, non-existent in our laws.
For many years, that position was almost officially reserved for Raila Odinga, the current Africa Union special envoy for Infrastructure and also the leader of the largest democratic party in the country – the Orange Democratic Movement (ODM).
For so long, Raila has been on the receiving end for fighting for this very freedom some of us are misusing every day to ridicule, mock, abuse, insult, belittle and soil him.
He has been on the forefront in fighting for these freedoms from the oppressive regime of the late President Moi, President Mwai Kibaki and partly President Uhuru Kenyatta.
All this while, he was branded as a troublemaker, enemy of the state, violent and vengeful, a witch, anti-development and unschooled.
He has endured all.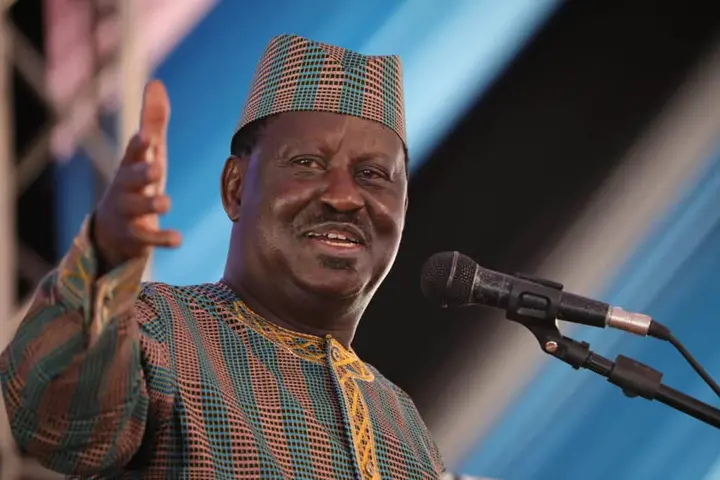 Today, he is seen to have forced his way to Jubilee's bedroom and taken Uhuru hostage and kicked out Ruto from the equation.
Some millennials with no iota of history but with access to the internet are making hay daily by being paid a few coins to belittle the same man who even made it possible for them to abuse him as they wish.
And he has come under serious attack from none other than the deputy president William Ruto who has poisoned his supporters that his woes are engineered by Raila.
He wants to blame Raila for all the problems he has plunged himself in.
Unbeknown to Ruto, Raila is not his enemy. Neither is Raila planning how to stop Ruto from ascending to power.
What Raila is doing is what any parent would do to their children.
As a parent, when you want to give your child a favor or are preparing them for greatness, you do not show them openly. Especially if the child is hard-headed and has bad manners, bad morals and lacks direction.
Any parent will seem to be so hard on such a child, always pointing out the child's flaws without telling them to in the hope that the child would be wise enough to realise on their own that they are being dissuaded from the wrong path they have set on.
When you see your child, your heir start exhibiting questionable character, you admonish them. The holy books also direct us to do that.
As a responsible parent who wants the best for your child, you show no mercy to your wayward child.
Sometimes, when you think your admonishing would be detrimental, you seek your neighbor, friend, or a suitable person to talk sense into your child. That's what Uhuru did and is doing with Ruto.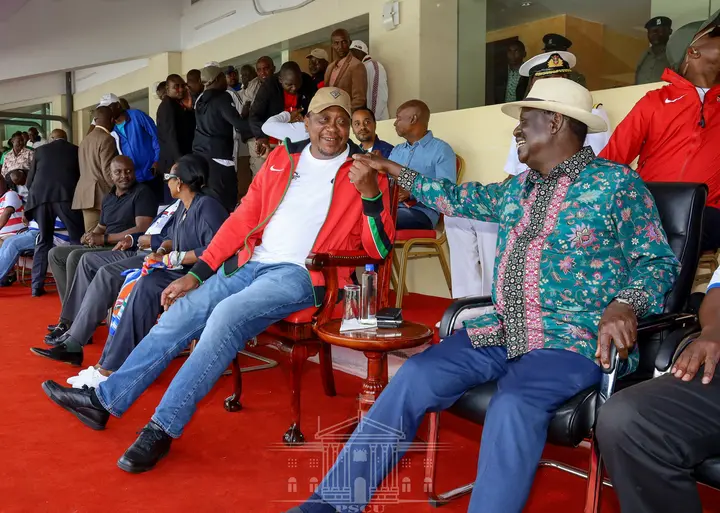 Uhuru is using Raila to tell Ruto to get back to his true self, to shape him into a leader that can be trusted with the leadership of this country.
Uhuru tried to instil this into Ruto way ago after the 2017 elections by directing that early for 2022 elections should be stopped. Ruto defied.
Uhuru pleaded with Ruto to concentrate on service delivery when called on his Jubilee administration to concentrate on their Big Four agenda, again, Ruto never listened.
Uhuru directed that no new projects should be launched before those launched earlier were complete, Ruto defied that too and continued to roam around the country relaunching old projects.
Uhuru started a journey of national reconciliation and unity and made peace with Raila through the Handshake but Ruto has been frothing at his mouth belittling that historic move that save Kenya from breaking up into two countries and of course, many would have died.
Uhuru directed that all government institutions up their game on their respective mandates and we saw a more lethal and independent Directorate of Criminal Investigations (DCI) and the Office of the Director of Public Prosecutions (ODPP) but Ruto has taken it as his full-time job to fight them and stop them from dismantling the status quo.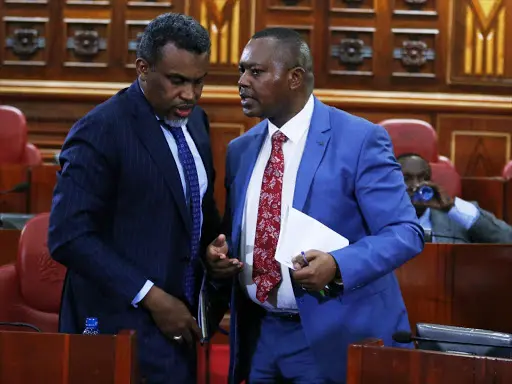 Uhuru asked his people to stop stealing public resources and even brought polygraphs so as to ensure even the most junior officers do not put their fingers in the public pot, but Ruto has allowed suspicious transactions to take place right inside his official office where ex-sports CS Rashid Echesa is said to have been using to advance corruption.
What else would Uhuru have done to show Ruto that all he wanted was for his deputy to see the light?
Uhuru and Raila are not teaming up to cling on power, they want to be sure that Ruto can be trusted with the leadership of this country.
But Ruto is so blinded he cannot see that all that Uhuru and Raila are doing is to open up his eyes, to look and see.
Ruto is too full of himself and drunk with power that he sees nothing as good if it is not coming from his mouth.
It is time Ruto opened his eyes and understand that no parent can allow to see their children going down the drain and do nothing. A parent will try everything but if the child proves he's not ready to change, the parent will have no choice but to denounce them.
-SOURCE
(Visited 948 times, 1 visits today)
Comments
0 comments