Trending News
Viral Video of Luo man ploughing using Toyota Prado Excites Kenyans

The stereotype about Luo men being show-offs and doing some of the most unthinkable things with their wealth has been taken to another level.
A video of a man ploughing his farm using a flashy Toyota SUV ride, in place of an Ox or bulls, has caused a stir on social media.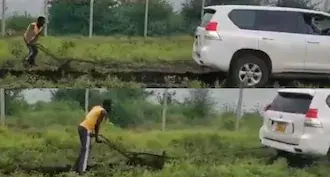 The video shows a farmer behind the SUV while ploughing using the traditional tool with fellow men helping out.
The clip was shared on Twitter by renowned journalist and former actor Ferdinand Omondi who claimed it was what Luo men were up to during the isolation period.
"Look at what Luo men are doing in self-isolation at the village," Omondi joked.
Look at what Luo Men are doing in self isolation at the village 🤦‍♂️ pic.twitter.com/cJ8SAsKVbP

— FERDINAND OMONDI (@FerdyOmondi) March 21, 2020
In the approximately two minute video, the men assisting the farmer could be heard advising him to direct the tool in accordance with the alignment of the farm.
Many social media users responded to the video with many having different views on who owned the car and if it was a smart move.
Here are some reactions from Twitter:
"That must be a hired car. No one in good mind can misuse his car like that," T Mulevu said.
"Luo men started driving Toyota cars?" Nyaora E. O. Kijomba hilariously asked.
"This is the county's money being misused. Why not buy a tractor for that, or two oxen for the same?" Jay Jay said.
"Haha, they just kept the 1.8-metre distance from each other while on their regular economic track," Amare Mitiku said.
"How this generates fun is beyond basic comprehension. Must he really plough? He would have bought flour instead," Nebert Kiguhe said.
"That view of the lake, awesome. Lots of potential. That piece of land is fabulous," Don Muindi Kawinzi said.
"Suzanna Owiyo your county people my God! We give up," Dennise Kosgei joked.
Read the Original Article on Tuko.co.ke