One of the chiefs in the crackdown against illicit brew in Uasin Gishu County has apologized to the disabled woman who got Busaa poured on her body.
Images of women getting soaked in Busaa by local administrators saw netizens express their anger over how the officers handled their business. The operation was led by seven area chiefs and 20 police officers.
Among the victims was a disabled woman, Lydiah Chepkoech, who was caught in a viral photo. The mother of two found herself helpless when her customers and children fled their home following the visit from the administrators. She has since received an apology from one of the chiefs following public uproar.
Another victim, Viola Maiyo, suffered the same fate as Lydiah when officers raided Koiluget village and destroyed some of her brewing paraphernalia. The chief then poured busaa on her while her children watched from the sidelines.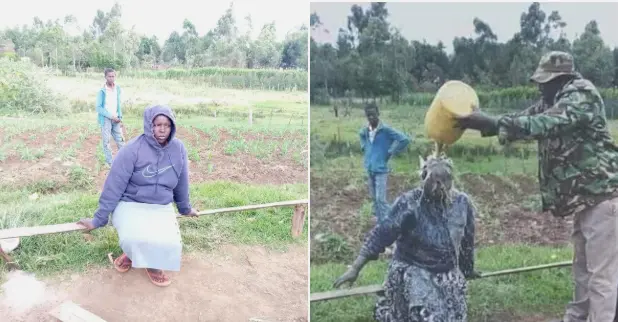 The mother of six relies on the illicit brew to meet the family's financial needs. While the women have acknowledged that illicit brew was not a good practice, the Interior Ministry is now following up on the chief who humiliated the women and ensure that he is booked accordingly.
VIDEO: JULIUS MALEMA says White people must Apologise to Black South Africans
(Visited 469 times, 1 visits today)
Comments
0 comments