According to an investigative piece by the Daily Nation, there some companies which benefitted massively from the Covid-19 billions that Uhuru Kenyatta's government received.
If its anything to go by concerning the investigative piece, then not every Kenyan is cursing the arrival of the Covid-19 pandemic.
According to reports, some tenders were awarded without following the due process as outlined by law in regards to the supply of goods.
Uhuru Kenyatta's government, within 60 days after confirming the first case of coronavirus, received Sh223 billion in a bid to fight the Covid-19.
The Nation reports that 12 firms were awarded contracts worth Sh3 billion by Kemsa to deliver medical supplies to fight the pandemic with irregular bids going to friends and well-connected individuals.
Irregular Tender Scandal
The Nation reports that before a lady by the name Ivy Minyow Onyango a 22-year old lady registered her weeks before any African country reported its first case of Covid-19. She registered a company known as Kilig Limited.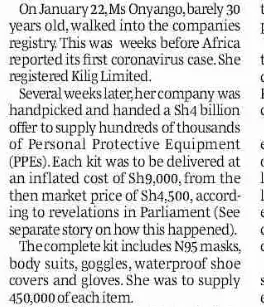 It is reported that several weeks later, her company was awarded Sh4 billion tender to supply hundreds of thousands of Personal Protective Equipment (PPEs).
It is reported that each kit was to be delivered at an inflated cost of Sh9,000 from its original market value of Sh4,500.
Her company Kilig Limited was also mandated to supply complete body kits consisting of N95 masks, bodysuits, goggles, waterproof shoe covers and gloves at a price set of Sh450,000.
To the surprise of many, her company Kilig Limited had no proof of record to supply such big tenders within a short notice yet it was awarded the tender.
According to the registration details of the company, Ms Onyango is the sole shareholder and director of the company having 1,000 shares in her possession.
Fall-out Revealed Mess
According to the report by the Nation, all went well for her company until the benefactors and the top executives at Kemsa clashed.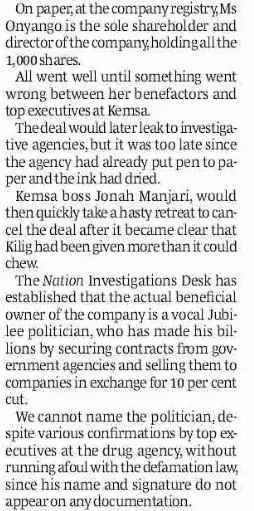 The deal leaked into top investigative agencies but it was late since the deal had already been pushed through.
In a new twist, the Nation reports that the company, Kilig limited, the major beneficiary and owner is a vocal Jubilee politician who has made billions by securing contracts from government and selling them to companies in exchange of 10% cut.
This indicates that 22-year old Ivy Minyow Onyango is just a pawn in the game where it is controlled by serious cartels.
-Courtesy
(Visited 1,256 times, 1 visits today)