As Kenya Medical Supplies Authority (KEMSA) scandal heats up, several emails have reportedly leaked from the Ministry of Health offices.
A report by Daily Nation on Sunday, August 30, indicated that Health CS Mutahi Kagwe and his PS Susan Mochache have been fighting back claims that they were involved in the scandal.
The publication reported that the alleged emails appeared to absolve the PS of any blame even though suspended KEMSA CEO Jonah Manjari directly linked the CS and PS to the scandal.
The said emails claimed that KEMSA had shared a budget to the Ministry of Health that was complete with the items to procure, their pricing, suppliers as well as quantities.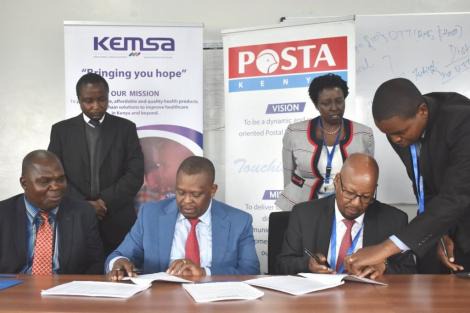 "Whereas an impression has been created that the ministry had given KEMSA  the list of suppliers, it is actually you (KEMSA) who had provided the details while submitting the rational budget.
"I reiterate that my concern in this matter was solely on the budget and that I had no intention to manage or direct the procurement process," read one mail reportedly authored by the PS.
In another email, the PS seems to have challenged the authority officials to provide a letter in which she had reportedly given directions towards the procurement that landed the CEO in hot soup.
"If indeed you stand by the allegations that you were given the instructions by the ministry regarding which suppliers to procure from and at what process, please provide the letter that has been used to purport that my communication to you on this matter bore instructions as to where to source the items and their prices," claimed another later allegedly from the PS.
The publication also revealed alleged contents of an email from KEMSA Director of Commercial Services Eliud Muriithi to PS Mochache that showed Personal Protective Equipment (PPE) were set to be acquired for more than Ksh230 million.
"Please find final version of the Covid-19 emergency procurement status as at April 2, 2020. Please note that total planned procurement for PPEs, including ventilators, amounts to Ksh236,716,500.
Planned procurement for lab commodities amounts to Ksh318,523,945," read the said email apparently sent on April 2, 2020.
KEMSA CEO Manjari and Chairman Kembi Gitura admitted to Senators on Friday August, 28 that CS Kagwe and his PS Mochache had influenced its operations.
Since the allegations, National Assembly Health Committee has summoned Mochache to answer to the procurement claims even as leaders increasingly demand that CS Kagwe steps down over the scandal.
(Visited 856 times, 1 visits today)